Fire marshals woke Que Pequeno and his four roommates up on the morning of December 5 with orders for them to vacate their home within an hour while his seven other roommates were out for the day. A Facebook Live video by one of Que's roommates shows tenants' belongings lined up against the building wall later that afternoon as they go back and forth with police and city officials. In the video, police officers and tenants argue about how much time they were given to round up their things, with officers insisting that tenants had four hours. "They gave us one hour—well they said it was one hour—it was actually 20 minutes," Que tells me over the phone hours after the eviction. The same was said to police by his roommate who broadcasted the eviction. "They gave us 20 minutes to get everything we could. And they boarded up the doors."
The space they occupied in Central Baltimore was the Bell Foundry—a warehouse-like studio space where artists have lived for the past seven years. Que had been operating out of a studio at the Bell Foundry since April, and has made it his mission to organize music events in the building's basement to give black artists of the city's DIY community a platform to perform. Since the closing of The Bell Foundry, spaces in Denver, Philadelphia, Minneapolis, Dallas, and other cities are currently in danger of being shut down as well, if they haven't already. This has forced and motivated the national DIY community to unite to help fight off a potential mass-closing by maneuvering through digital and physical barricades for solutions.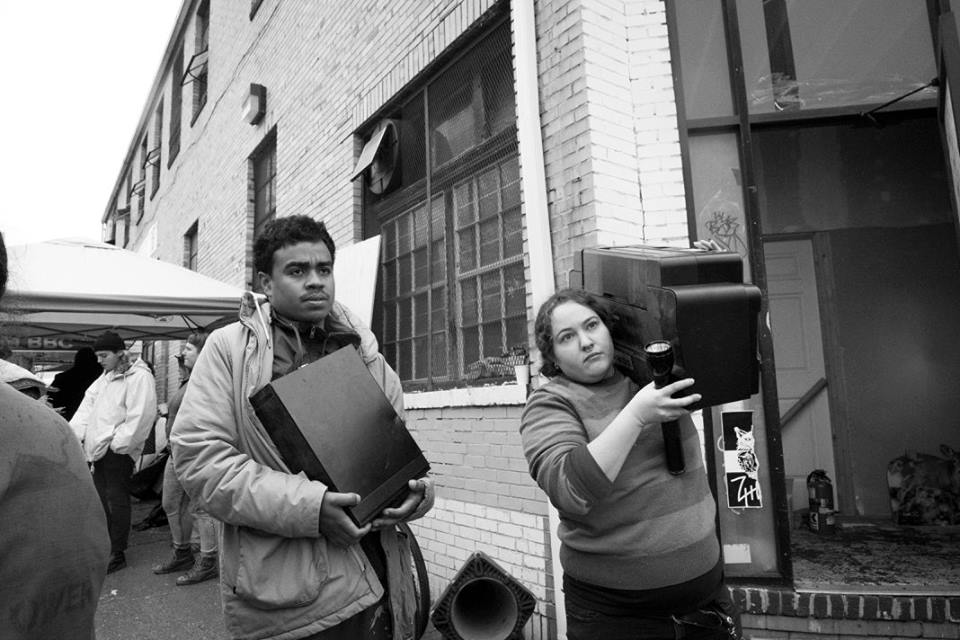 "They said that there were fire code violations, they kept talking about the tragic thing that happened in Oakland," Que recalls. Before verbal accounts like this were documented, much of Baltimore's DIY community felt that the crackdown on the Bell Foundry was a direct response to the fire that killed 36 people at Oakland's Ghost Ship space on December 2. The fear is that all similar warehouse spaces across the country will now be perceived as the next potential disaster. Or even worse, that the developing perception will be used as a tool to shut down spaces in order to turn them into more financially viable buildings. City officials insist otherwise. The Baltimore Sun reports that, according to Baltimore Fire Department spokesman Roman Clarke, officials received an email complaint about the building and upon inspection, violations including no valid permit, unsafe conditions, use of flammables and combustibles, and unlawful removal of beams from the ceiling were discovered. City officials did not respond to multiple requests for comments.
"They called this an emergency condemnation of the building," Adam Holofcener tells me over the phone. Holofcener is an Executive Director of Maryland Volunteer Lawyers for the Arts and maintains a private practice with the firm Oliver & Grimsley. After learning of The Bell Foundry's closing, he dove into Baltimore City code to see on what grounds tenants were being kicked out. "Even condemnations of buildings have certain notice requirements that are necessary but there, of course, is a provision that says if the city feels like there is imminent danger to life or property, then they can condemn a building immediately." Section 117.1 of Building, Fire, and Related Codes of Baltimore City states: "In an emergency where life, health, safety, or property is in immediate danger, the Building Official may immediately take any action necessary to protect the endangered life, health, safety, or property, without complying with the notice provisions of this Code."
Discussions on social media show people suggesting that relocating DIY communities to outskirts of cities or outside of cities altogether could help them avoid the all-but-guaranteed face-offs with the law. But that may disrupt what exactly makes these worlds work. "Of course people have mentioned this, on the internet, or wherever," says San Francisco resident, Shannon Knox in an email conversation. "'Yeah, we should all just move to the woods,' some people say. I've lived in the woods. I loved it, but I was struggling economically and my resources were limited." DIY communities are intertwined with the urban landscape; it's there that people from diverse backgrounds find spaces to congregate, trade services, and live fairly close to multiple options for entertainment, food, and transportation.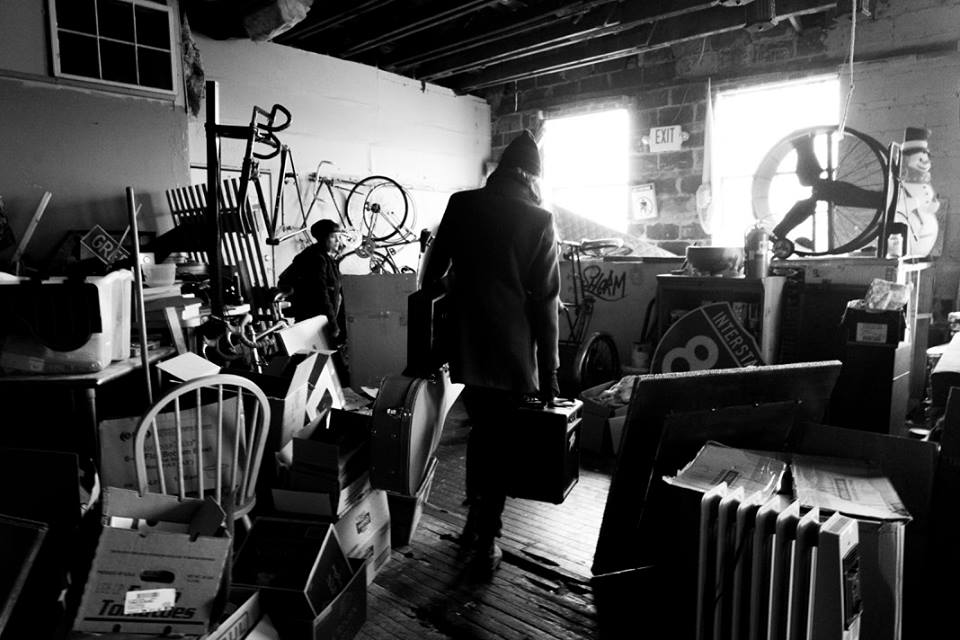 Residents of Ghost Ship and kindred spaces are often thought of as squatters and people who want to withdraw from the dominant society. Those distinctions are violent in that they imply people who live in these spaces demand less respect and sensitivity. "I've been in plenty of DIY spaces that everyone there is paying what an apartment would cost," Philadelphia-based architect Melissa Frost tells me on the phone. "It's just that they want that kind of space, they want that kind of community, they want to live with their friends. They want to be able to hold shows. They want to be able to build things where they live." This is what draws many to this lifestyle, not radicalism. While living outside of cities may solve the issue of continued interference, a relocation that drastic could eliminate the draw of these spaces in the first place. "There are so many collectives, organizations, companies, events that are extremely valuable to an artist," Shannon Knox says. "Here in the Bay, I personally am part of a screen printing collective, which without I wouldn't be able to print a lot of my artwork. I have a publisher for my comics, which has a distributor based out of the same neighborhood. I don't want to leave this behind." American cities have seen droves of rich whites returning to cities from the suburbs since the turn of the century. With that remigration posing a threat to space within cities, it is characteristic for DIY communities and denizens of warehouse spaces that exist on the fringes of legitimacy to be innovative.
There is an ever-accelerating worry that people, no matter how proactive, won't have a choice in having to leave these communities, though. Residents of downtown LA's 931 E. Pico Blvd. are fearful that they'll befall a similar fate as Baltimore's Bell Foundry. Almost immediately after the fire at Ghost Ship, an unnamed former resident of the building was interviewed by KTLA and spoke of their struggles with the building's landlord and the unsanitary living conditions that they experienced while living there. The aftermath of that story has been heightened press and tenants' increased fear of being left on the streets.
"To single out our building is disingenuous, in that, we are nowhere near, not even close, to the condition of Ghost Ship," Laura Shapiro emphatically says to me over the phone in mid-December. Laura has lived at 931 for the past seven years and admits that while the building is not fully up to code due to things like an insufficient amount of fire extinguishers, the conditions are not as extreme as the KTLA story led on. "There are working sprinklers. There are working fire alarms. The landlord has been working systematically with the fire department over the last few months to upgrade everything and bring it up to code. Yes, there are issues. Yes there are legal issues because of zoning, etc., but the level of safety risks and the characterization of this building is, in my opinion, politically-motivated."
931's biggest potential blow is one that isn't even related to what codes it adheres to. The building's landlord, Morad "Ben" Neman, was included in a 2014 raid investigating suspected money laundering for the Sinaloa drug cartel in Mexico. That case is still pending, but when paired with a wave of concern over DIY spaces, Laura and other tenants at 931 are led to believe that their home is prime for closure.
"Artists being evicted from their spaces is nothing new, that's how it's always been," Melissa Frost says. She created an online service called Safer Spaces that provides a list of documents including harm prevention methods for warehouse spaces, legal assistance, and lodging for those misplaced by the Oakland fire. As thorough as the sources that Melissa provides on Safer Spaces are, she fears that they may only be a temporary fix with the changing economy and demographics of cities. "DIY communities have always existed in this precarious space of potentially being kicked out at any moment. I've watched tons of cycles of that happening in many different places and new ones are born, but I think the way cities are getting more expensive, it means that new ones won't be born."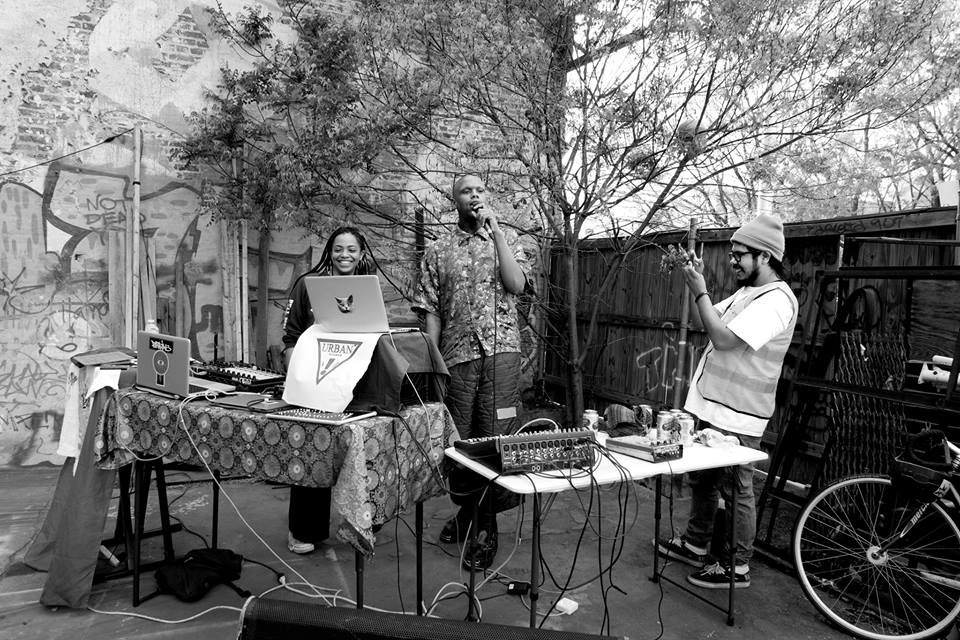 In San Francisco, Shannon Knox knows of several places in the Bay that have either received eviction notices or fast-approaching inspection notices since December 2. Fear of being unprepared for impending inspections has kept some in the community from paying respects to lost friends. "Unfortunately, this has caused some residents to miss funerals and memorial gatherings for their friends who died in the fire," Shannon said over email.
The stomping out of countercultures that feed the mainstream its inspiration is a story that tends to hit the big screen to be met by tears and admiration decades after the damage is irreversible. No one knows if the aftermath of Ghost Ship will be any different. Landlords rarely take accountability and city officials continue waving the "just doing my job" card. And with little progressive communication between either of these parties and tenants of these buildings, a solution remains fuzzy.
"They are coming for the most vulnerable people. In this case, fringe artists who are not part of the status quo, who are not trying to be part of the status quo, and who are also a very essential part of the culture," Laura Shapiro stresses. "Even if it's some rave or party, it's still, by definition, outside the mainstream culture. Without those fringes, the large culture becomes this homogenized corporate party. It's an essential part of the culture. The political agenda to eradicate it post-Ghost Ship is approaching a level of economic suppression of speech. By suppressing this culture, we end up with less questioning of the status quo and that is very interesting that this is happening at this particular political moment in time."
Audrey Gatewood is a Baltimore-based photographer. Follow her on Instagram. 
Follow Lawrence Burney on Twitter.